The stockings may be hung by the chimney with care but your holiday decorating doesn't need to stop at your indoor area! Let your holiday spirit radiate out to your outdoor areas as well with these ideas that are easier than going full Griswold on your home's exterior. Whether you have a quick party you need to decorate for or just want a little extra cheeriness outdoors, these ideas can be done quickly and easily so you can get back to enjoying the season.
1. Change Up the Lighting
The very first thing you may have thought of is lights! Well of course, you can add those to make your home look more festive, but for an easy addition that doesn't require a ladder try adding strands of Edison bulb lights to your porch or outdoor area. This type of lighting is very easy to find and can even be solar-powered if you don't want to mess around with a cord (just keep in mind how much or little the winter sun will hit them). Plus, you can leave these lights up all year without them being too holiday-specific.
2. Add the Greenery
Break out the boughs and branches, your outdoor area the merriest on the block with festive greenery! Greening up your outdoor area can give your home a Hallmark movie appearance, even if you're surrounded by palm trees. Put wreaths on doors and windows, replace your already-empty planters with pine trees, and even strategically stringing garland throughout your porch front and railings are just a few ways to add some greenery. Holiday greenery (real or fake) is also easily accessible anywhere holiday décor is sold so you can really get creative with this green base by incorporating ribbons, bows, and even ornaments.
3. Fill the Lanterns
Light your way through the holidays by including lanterns in your outdoor area décor. These lanterns can be purchased in a range of sizes for outdoor use, so you can find the right size for what you need. Fill your lanterns with larger scale ornament bulbs, more greenery, pinecones, or tealights to transition them to the holiday season. Perfect to set on side tables or to have right next to your front door, these lanterns are an easy container to showcase more holiday décor.
4. Cozy Up with Throw Pillows and Blankets
Nothing says festive for the winter season than throw pillows and blankets that make your outdoor furniture seem more homey. Find pillows or blankets with seasonal sayings, prints, or solids, whatever your décor, there's a cozy pillow or blanket that will complement your theme! If you intend on leaving your pillows and blankets outdoors for long stretches of time, make sure they are made for outdoor use or you don't mind getting them a little dirty from being outdoors. Adding these simple touches to a bench, rocking chair, or Adirondack chair are an easy way to make them look even more inviting but also festive.
5. Decorate an Outdoor Tree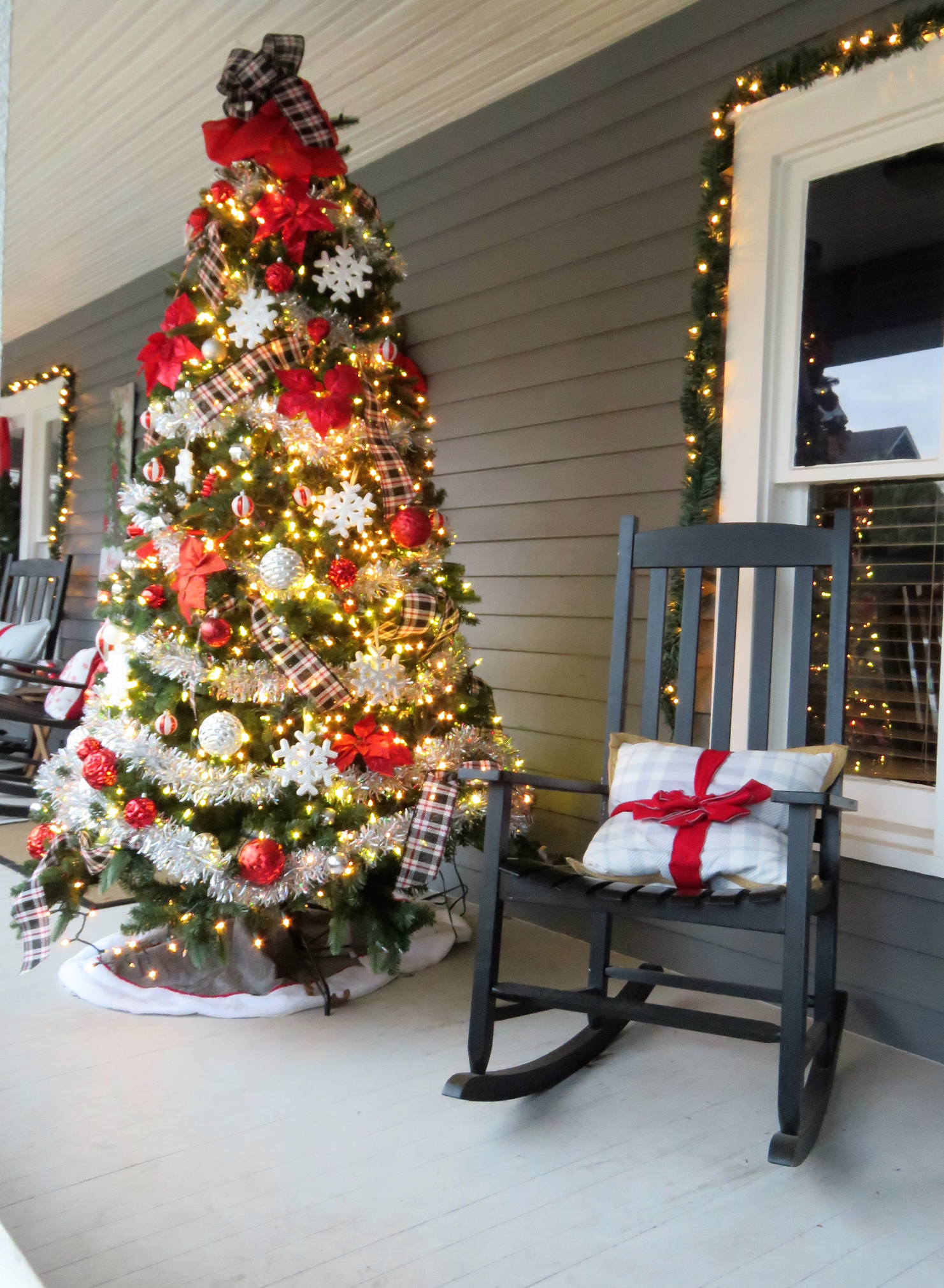 You have a Christmas tree indoors, why not have one outdoors as well? This may require a little more effort but it's a fun way to spend a few hours with the family! You can pick a real tree or shrub that's begging to be decorated or go with the old faux one you're forgoing for your indoor set-up to make this happen. The decorations on the tree itself can be as simple or as detailed as you like! There's a certain elegance to a tree with only lights but it's also fun to add outdoor- safe ornaments that really amp up the festivity. Just be sure if you go with a faux tree that you secure it in case of blustery winds, or else the whole neighborhood might end up with a piece of your décor.
What easy ways do you like to decorate your outdoor area? Feel free to add to this list below!